by Tyler Durden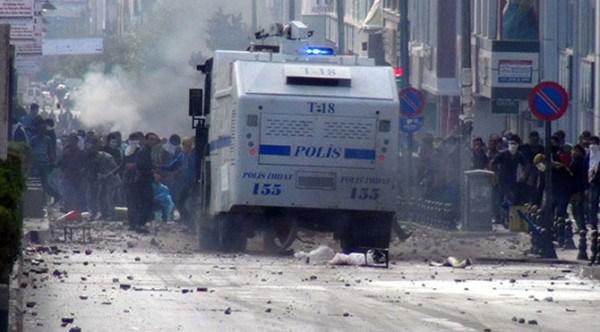 While geopolitics has largely dropped of the front news page, replaced by updates on the global Ebola epidemic (which until recently was considered nothing but fear mongering by those who prefer to avoid reality ews until it is far too late), things in the Middle East are getting worse, and while the US attack against ISIS has achieved absolutely nothing (in fact, the revelation of US strategies may have facilitated the incursion of ISIS into the town of Kobani, a mostly Kurdish city in north Syria), the latest geopolitical hotspot over the past few days has become NATO member Turkey (we provided a big picture summary in "Turkey, The Kurds And Iraq – The Prize & Peril Of Kirkuk"). It is here that violent clashes broke out across the southeast of the nation with several people reported dead and curfews imposed, as the region's Kurdish people protested the advance of Islamic State just across the border with Syria.
As Bloomberg reports, demonstrators clashed with police and in some areas with members of local Islamist groups, according to Turkish media. Haberturk website said that five people were killed in Diyarbakir, Turkey's largest Kurdish city. A curfew was imposed there at 10 p.m. local time as well as in Mardin, Siirt, Batman and Van, according to Hurriyet newspaper.
The reason for the anger:  Syrian Kurdish fighters are battling to prevent Islamic State militants from overrunning Kobani, a mostly Kurdish city in north Syria a couple of miles south of the Turkish border. Kurds have blamed the Turkish government for not doing enough to help the Kurds of Kobani.
As a result, Twitter is overrun with photos such as the following: