Archive for
February, 2014
A Trinity College graduate and two men who were intercepted by armed gardai outside the premises of a firearms dealer have been found guilty of the possession of handguns and ammunition.
Ursula Shannon (30), who is a Trinity College graduate and prominent member of socialist republican group Eirigi, and her co-accused John McGreal (37) were remanded on continuing bail following the judgement of the Special Criminal Court today earlier today and will be sentenced at later date.
Co-accused Colin Brady (24), who was granted bail but did not avail of it, was remanded in custody.
The non-jury court heard that the accused were wearing wigs and disguises when they were intercepted by armed gardai outside a residential premises which also doubled as a business for a licensed firearms seller.
CCTV footage of the interception of the stolen van they were travelling in was played to the court and the prosecution invited the court to infer that the people in the van were there to rob the shop and steal the firearms on the premises.
The accused had pleaded not guilty to the possession of two handguns and 32 rounds of ammunition at Tullybeg, Rahan, Co Offaly on November 27th, 2012, but had not challenged any of the evidence in the case.
They had pleaded not guilty to the unlawful possession of one 9mm parabellum calibre Taurus PT92 semi-automatic pistol, one magazine suitable for use with the Taurus PT92 pistol, one 9mm parabellum calibre Walther P5 semi-automatic pistol and one ZGJY branded combined stun gun and flashlight.
They had also each pleaded not guilty to the possession of 25 rounds of 9mm ammunition and seven rounds of 9mm ammunition.
The court heard evidence that interviews were conducted with the accused where Sections 18, 19 and 19A of the Criminal Justice Act 1984 as amended by the Criminal Justice Act 2007 were invoked.
The sections allow a judge or jury to draw inferences from an accused's failure or refusal to account for an object, substance or mark, or any mark on such object, or failure to account for their presence at a particular place. The judge or jury may treat this as corroborative of other evidence against the accused.
There was evidence that John McGreal remained silent when questions were put to him where the sections were invoked in interview, while Shannon and Brady answered "no comment" when questions were put to them.
Returning judgement, presiding judge Mr Justice Paul Butler said the court was satisfied beyond doubt that each of the accused was in possession of the items referred to in the indictment.
full article at source:http://www.independent.ie/irish-news/courts/trinity-college-graduate-ursula-shannon-found-guilty-of-possession-of-handguns-and-ammunition-30003401.html
Comment:
By Thomás Aengus O Cléirigh
Irish citizens found guilty by no jury courts? ,What about the real terrorists from Anglo Irish Bank ,|Allied Irish Bank, Bank of Ireland and their corrupt political backers who have stolen the nations assets and have sold us into financial slavery ? When will we see these terrorists before special courts?
By Dylan Charles
Waking Times
More than ever our world needs a new generation of youthful and caring people capable of comprehending the problems we face, while maintaining the clarity of mind and compassion needed to seek and find creative solutions to this morass. For this, our youth need to be healthy, energetic, and free from the myriad traps that our society offers today.
Our young people should be given every opportunity to lead healthy, free, and prosperous lives in our earthly world of abundance, yet the opposite is unfortunately the case in these times, as government grows beyond control, our health is assaulted at every turn, and predatory schemes of all types target us to entrap us in false belief systems and destructive cultural paradigms, such as the wanton materialism and greed that surrounds us.The broad message to young people nowadays is to conform and submit to norms and phony authority rather than to develop personal integrity, personal liberty and true happiness. Society beckons our youth to imitate others, to compete with others for no end, to pick a team and stay with them till the bitter end, and to neglect the most important virtues in life like spirituality, intellect and compassion.
Leadership for our youth is needed now more than ever, but the wisdom of older generations is rarely coveted as tool for development for the youth. To right this in some degree, here is a comprehensive list of conformitytraps for today's youth, to help them more easily identify some of pitfalls that lie between them and true success and happiness on their journey to maturity.
1. Debt – Debt is the modern form of the slavery of old. The amount of debt in America alone is staggering, and unfortunately the next few younger generations will feel the brunt of this impending disaster. There really is no way for an individual to mitigate the public debt incurred just by being born a US citizen, and right now, each American already owes something between $50,000 and $200,000 to the national debt, depending on how this is calculated. However, personal debt is within the control of the individual and stands as one of the most freedom-limiting and stress-inducing aspects of modern life.
Our predatory lending system deliberately targets young people at an early age to purchase anything and everything with easy credit and credit cards, and there is tremendous peer pressure to live a fabulously materialistic lifestyle. In addition to credit card debt, the amount of debt that young people take on to participate in college is exorbitant, and this system is intrinsically designed to generate heaps of profit for the banking system and the US government, and it unnecessarily saddles young people with life long financial commitments that can weigh them down for decades.
There are many free and affordable options for gaining a higher education nowadays, and with consideration and commitment it is perfectly possible for young people to live an enjoyable life without dependence on credit cards.
2. Materialism and Consumerism – Made possible by access to easy credit and triggered by a predatory marketing infrastructure, one of the greatest conformity traps for young people today is the encouragement to develop a lifestyle centered around the purchasing of goods that people don't even need to survive. Often, the drive for materialism is born of an encouraged psychological condition that both creates unhappiness while covering up unhappiness. It is a road to nowhere, and the feelings of liberty that come from maintaining fewer material possessions is one of the truest and most attainable forms of liberty today.
Rejecting the consumptive and materialistic patterns that govern modern society is a keen habit to develop so that one can truly discover who they are and what their role is in this world.
3. Addiction to Drugs and Alcohol – Our culture strongly encourages people, especially our youth, to conform to a lifestyle centered around drinking, drug use, and 'partying.' While this certainly might be fun to a degree, there is tremendous pressure for young people to assimilate these rituals as lifelong habits, which can shamefully trap a person at an early age, and prohibit opportunities and good health later in life. Furthermore, this is an assault on positive mental and physical health, meaning that over-indulgence early on in life can cause serious health and psychological issues later on. Moderation has become a four letter word in our world, but should be developed at an early age so that one can live in balance with the social pressures we all face.
4. Hyper/Over Sexuality – Primarily a design of the marketing industry which sprang up in the early part of the 20th century as part of a push towards mass-consumerism, our culture is ridiculously overly sexualized and pornographic. Marketers and psychologists realized that sex and sexual images are the number one way to trigger false desires within a person to inspire them to desire needless material objects.
This problem continues to get worse with our insane mainstream media who ceaselessly produces shallow images of lust and hyper-sexuality that chip away at a young person's self image and esteem, encouraging them to objectify others and allow themselves to be objectified by others. Life shouldn't be this way, and sex and the human body should be treated with dignity and respect, both qualities that must be nurtured as a person matures to adulthood………………………………………..
full article at source :http://www.wakingtimes.com/2014/02/13/matrix-conformity-top-9-traps-todays-youth/
Tom Brady, Security Editor– Updated 28 February 2014 02:35 AM
A PRIEST has been arrested by gardai investigating the theft of more than €500,000 from his religious order
It follows a six-month investigation by a team of detectives into complaints of theft, which allegedly took place over a 13-year period.
The cash was allegedly taken from the order by making false claims for Mass stipends.
Under canon law, a priest is entitled to receive one stipend from the diocese or the order from collections made during the celebration of Mass.
Additional stipends cannot be claimed if the priest celebrates multiple Masses on one day.
However, it is alleged that the 59-year-old suspect lodged several claims on a regular basis and received payments from the authorities.
It is alleged that some of the claims were made in the names of other priests, who were unaware they were being implicated in the scheme, while others were sought using fictitious names.
full article at source: Priest held over €500k theft from his order.
Ireland continues to have one of the highest rates of oesophageal cancer in Europe, with over 400 cases being diagnosed here every year.
This figure is expected to increase to 800 per year by 2040.
However according to the Oesophageal Cancer Fund (OCF), if caught early enough, the disease has a high cure rate and this often involves innovative treatment that is less severe than chemotherapy or surgery.
In fact, if detected in its earliest stage, the cure rate is around 90%. If the disease is localised to the oesophagus and the lymph glands are unaffected, the cure rate is around 70%.
Meanwhile, if the cancer is localised to the oesophagus and surrounding lymph glands, the cure rate is around 40%. Just 10 years ago, the cure rate at this stage was only 20%.
However, the overall five-year survival rate remains low at 15%, emphasising the importance of catching this disease early.
The OCF is attempting to raise awareness of the importance of early detection as part of its annual fundraiser, Lollipop Day, which takes place on February 28 and March 1.
The event is calling on the public to become more aware of the symptoms of the disease. It urges anyone with swallowing difficulties to attend their GP without delay. People who are suffering with chronic or severe persistent reflux symptoms, such as heartburn, should also attend their GP.
Risk factors for the disease include smoking, heavy alcohol consumption, obesity and age – people aged 40-45 need to be particularly vigilant.
"It is very heartening to see a steady improvement in Irish people's awareness of this cancer and the progress in the cure rate. More and more people know that if they're experiencing symptoms such as long-term heartburn or reflux they should go to their doctor," noted OCF chairperson, Noelle Ryan.
Oesophageal cancer rate remains high here – irishhealth.com.
From. http://www.oftwominds.com/blog.html

The Real Cyprus Template (the one you're not supposed to notice)   (April 8, 2013)
The Real Cyprus Template reveals the core-periphery Neocolonial-Financialization Model in all its predatory glory.

Much has been said about "the Cyprus Template" (the so-called bail-in, where deposits are expropriated to recapitalize the insolvent banks), but virtually nothing has been written about the Real Cyprus Template.

Longtime correspondent David P. (proprietor of Market Daily Briefing) charted some very interesting data that enables us to follow the money–specifically, Eurozone money in the "foreign deposit sources" (deposits in Cyprus banks that originated from outside Cyprus).

It appears the key preliminary step of the Real Cyprus Template is that money-center banks in Germany and other "core" Eurozone nations pull their money out of the soon-to-implode "periphery" nation's banks before the banking crisis is announced.

As David observed, "I think this explains a lot about something that has always puzzled me: why the delay in resolving Cyprus after the Greek haircut?"

Here is David's explanation and two key charts:
---
"The Cyprus situation had been simmering for at least a year when in March of 2013 it finally broke; Cyprus had a week to take care of its banking situation or else face a cutoff of access to the eurosystem by the ECB. This brought matters to a head; the Cyprus Bail-In was finally settled upon, where uninsured depositors in the two largest banks in Cyprus took major haircuts, and must wait for return of their money until the assets of the banks are run down.
The banking problems in Cyprus had their roots in the Greek Sovereign Default, and were known by the general public for about a year prior to the recent default; a New York Times article dated April 11, 2012 lays out the particulars.
Looking at Cyprus bank security assets in data provided by the ECB, the problems were visible earlier – right after the first Greek haircut in mid 2011, and a second haircut finalized in early 2012. This was a 11 billion euro hole in a system with 100 billion in assets total, centered upon two banks that held half the deposits in the system.
Greek Crisis Timeline
| Date | Event |
| --- | --- |
| April 2010 | Greek Sovereign Bonds Declared Junk |
| May 2010 | 110 Euro bailout, no haircut |
| July 2011 | "Private Sector Involvement" decided at EU Summit |
| Oct 2011 | 130 Euro bailout, 53% face value haircut |
| Mar 2012 | Haircuts take effect; actual haircut 85% |
You can see the effects of the increasing haircuts in the chart below. The chart lists all types of bonds owned by all the banks on Cyprus. The red line is the important one. It shows "all off-island Eurozone Government Bonds."
Put more simply, that red line represents Greek Government debt owned by the two banks on Cyprus that failed. It went from a 12 billion euro value in mid 2011, down to a 1 billion euro value in early 2012. That's an 11 billion haircut – all due to the Greek Default.
So why did the eurozone wait so long to resolve the problematic Cypriot banks with their 11 billion euro hole that was clearly serious in the middle of 2011, and becoming blindingly obvious by 2012? Therein lies a story – it has to do with banking, and how banks make money. The explanation is a bit complicated, but bear with me.
Bank deposits are grouped into 3 primary categories: deposits from households, from corporations, and from other banks. Households and corporations typically have a long standing relationship with their bank; they only move their deposits slowly, and most of this sort of depositor uses time deposits to maximize their interest income. Deposits from other banks are what we might term "hot money." They arrive quickly, and depart just as fast. But why would a bank deposit money with another bank? The simple explanation is: interest rate spreads.
Let's imagine you ran a German bank, and you paid very low rates to your overnight depositors. You have a great deal of really cheap money on your hands. What are your options to make money? You can either loan money to German homeowners one by one, but there are only so many German homeowners, and they only want to borrow so much money. So after loaning all you can loan, you search the world to try and find another bank that is advertising high rates for deposit money, and you stumble on the banks in Cyprus.
| Rate | Deposit Type & Location |
| --- | --- |
| 0.55% | German Overnight Deposit |
| 1.1% | Cyprus Overnight Deposit |
| 2.8% | Cyprus Savings Deposit (1 year) |
| 4.9% | Cyprus Time Deposit (1 year) |
Now then, if the Bank of Cyprus doesn't go under, this is free money. How much are we talking about? Subtract the rate for the overnight deposit in Germany from the time deposit on Cyprus (4.9 – 0.55) then multiply by 60 billion euros. That ends up being 2.61 billion euros in profit. Per year! Cost? One guy at a computer hitting the "transfer" button on his keyboard in Dusseldorf!
This sure beats trying to loan money to a bunch of German homeowners one by one! But the key to this free money is, your bank must be able to get its money out of Cyprus prior to any trouble.
And the barrier to getting the bank's money back is those Time Deposits (the deposits paying the most interest) are stuck in Cyprus for a year. So in order to avoid loss, you have to see into the future one year and stop rolling your bank's time deposits one year before those Cyprus banks go under. Otherwise you will have collected that 4.9%, then suffered a 30-60% uninsured depositor haircut. And a haircut is not a good way to ensure your banker bonus for the year.
So with this hypothetical strategy in mind and being mindful of the dangers of default and the timeline of when things occurred, take a look at the following chart of "foreign deposit sources" (deposits in Cyprus banks that originated from outside Cyprus) and see for yourself how well each foreign participant did in anticipating the eventual banking system crisis.
Black: Eurozone [German & French] Banks
Red: Cyprus people and businesses
Blue: Cyprus Banks
Green: Banks outside the Eurozone
Orange: Russian "Mobsters" & Brits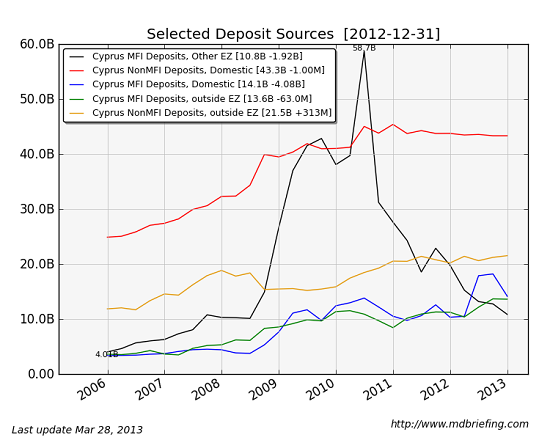 Looking at the timeline, even as late as the end of 2011, when it was clear Greece would default and the banking regulator had to know the banks in Cyprus were doomed, the amount of Eurozone-bank derived deposits in Cyprus was over 20 billion euros, a good portion of which would be subject to massive losses if the Cyprus Template were to be applied at that moment.
[Note that 20 billion euros was – at that time – the same size as the "Russian Mobster" Money.]
But at that moment, as a result of the "collecting the spread" strategy, some big chunk of that money were likely in time deposits, unable to be withdrawn. That money couldn't flee, not just yet.
But as time passed, those Eurozone bank deposits were slowly reduced down to 10 billion euros, a reduction of 50%. Presumably, as the time deposits expired, the money was brought back to the fatherland.
And then suddenly the President of Cyprus was informed he had 1 week to solve the banking situation that had been pending for more than a year.
In looking at the movement of capital prior to the default, we can give a grade to each participant, as a result of their apparent ability to assess the the danger to their deposits.
The clear winner: Eurozone Banks. Those guys were geniuses. They were the only participant to seriously reduce holdings prior to the default.
| Participant | Grade |
| --- | --- |
| Eurozone [German & French] Banks | B+/A-: almost perfect |
| Cyprus People & Businesses | F: completely unaware |
| Cyprus Banks | C-: slightly more aware |
| Banks Outside Eurozone | F: completely unaware |
| Russian Mobsters | F: completely unaware |
So it is expected (and a bit sad) that households and businesses don't leave their banks readily, so its not surprising they stayed on board right up until the end.
What is fascinating to me is that the banks that were NOT in the eurozone clearly had no idea what was coming, and the banks actually ON Cyprus only had an inkling, and that only at the last minute. Given both the timing and the form of the Cyprus bank resolution was in the hands of the ECB, as well as French and German politicians, is this astounding ability of the Eurozone banks to avoid losses truly a surprise?
One question that might be asked is, if the Eurozone banks knew what was going to happen, why not withdraw all their money from the banks on Cyprus?
First, only half the banking deposits on Cyprus were involved in the bail-in. Perhaps the 10 billion euros in remaining Cyprus-EZ bank deposits are in other healthy Cyprus banks. Another explanation is that only a subset of the eurozone banks were well-connected enough to receive advance information.
One last point. Since now we understand how perfectly the well-connected eurozone banking establishment identifies issues in member nation's banks, and how adept it is at avoiding uninsured depositor haircuts, we might find it useful to watch deposit flows of these Eurozone banks going forward.
They might well provide us insight as to where the next set of banking issues might arise, and perhaps more importantly, what the timing of these issues."
---
Thank you, David, for sharing your finding with us.
 We can now see there are two Cyprus Templates:1. The public-relations/propaganda model
2. The real one, that enables "core" eurozone banks to pull their deposits out of periphery banks before the deposit expropriation and capital controls kick in.
Why are we not surprised the entire charade and expropriation is rigged to benefit the core banks? For more on the core/periphery structure of the Eurozone, please read The E.U., Neofeudalism and the Neocolonial-Financialization Model (May 24, 2012)
To fully understand the Eurozone's financial-debt crisis, we must dig through the artifice, obfuscation and propaganda to the real dynamics of Europe's "new feudalism," the Neocolonial-Financialization Model.